Sonim Technologies and AINA Wireless continue to improve the user experience when using the AINA Wireless Bluetooth Accessories (PTT Voice Responder and PTT Smart Button) with Sonim's ruggedized phones (XP5S and XP8) providing an in-depth integration and mapping of AINA features to the phone's capabilities.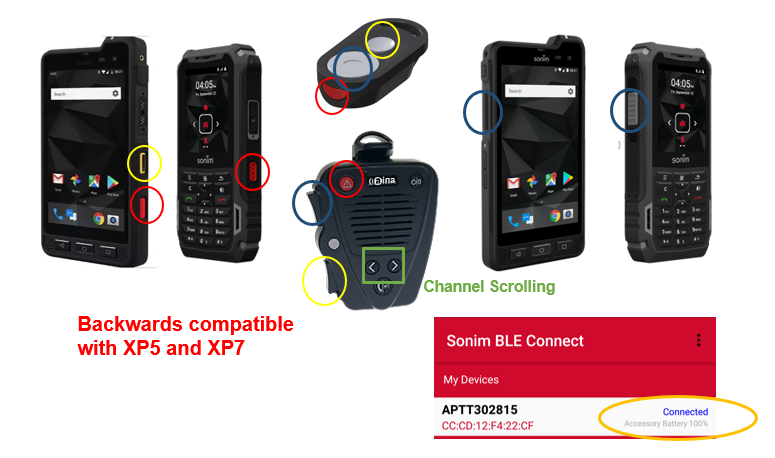 What functions are supported?
All buttons on the AINA accessories are mapped to specific functions that are supported by the phone or the PTT application. The main PTT is of course mapped to Sonim's PTT button on the side of the phone. The secondary PTT button as currently assignable to specific channels by apps like GroupTalk, Tassta and Zello (PTT apps that have fully integrated all AINA functions), and is mapped to the yellow, programmable button on the XP8. The Emergency button maps to the red button on the Sonim XP5 or XP8, a feature that is now supported by AT&T ePTT in the advanced plan but had been implemented by ESChat and StreamWide since the beginning of 2018 which also support the Channel scrolling capability. Of course, the call answer button still answers regular phone calls.
Battery indication through the BLE App
What is new and currently unique to the Sonim + AINA combo is the battery status indication. Once the AINA PTT Accessory is paired to the phone in the BLE application you will be able to see the status of the AINA battery. A good feature to have if you are about to leave the office for the day.
Backwards compatibility to XP5 and XP7
The integration is also backwards compatible. If you are currently using XP5 and XP7 with wired or non-AINA Bluetooth accessories and these devices are failing, you would not want to buy new accessories for the old phones since they would not be compatible with the new XP5S or XP8 that you might be using soon. By slowly switching over to the AINA PTT accessories you can continue to provide accessories to your workforce today without being required to spend the money twice.
The following guide shows how to pair the AINA PTT accessories to the Sonim phones.
1. Sonim XP8
2. Sonim XP5S
Sonim XP8
A Download / update the Sonim BLE application
Go to the Google Play store and search for 'Sonim BLE Connect'
Select the 'Sonim BLE Connect' application
Download / update the application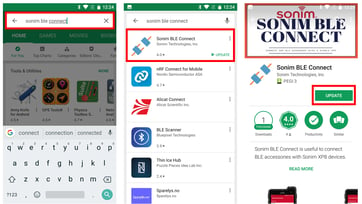 B Pair the AINA Accessory to the XP8
Go to the phone's Settings and select 'Bluetooth'
Select your PTT Voice Responder or PTT Smart Button from the list of available devices
Wait for your device to pair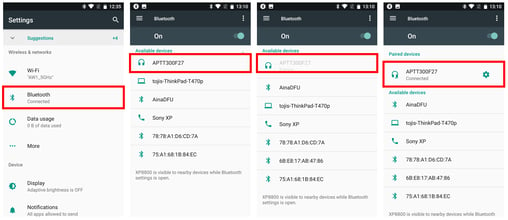 C Connect the AINA Accessory to the Sonim BLE application
Search for and open the 'Sonim Scout' application from your phone
Select the 'Utilities' tab
Select 'Sonim BLE Connect'
Select your PTT Voice Responder from the list
Wait for the application to show that your accessory is "Connected" and its battery level

---
Sonim XP5S
A Pair the AINA Accessory to the XP5S
Go to the phone's Settings
Select 'Bluetooth'
Turn the Bluetooth function on
Select your PTT Voice Responder from the list of available devices and wait for it to pair to the phone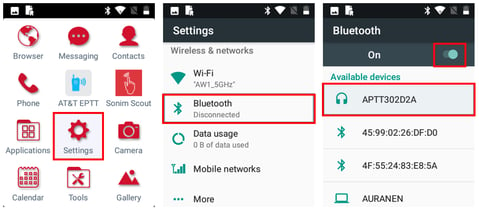 B Connect the AINA Accessory to the Sonim BLE application
Search for and open the 'Sonim Scout' application from your phone
Select the 'Utilities' tab
Select 'Sonim BLE Connect'
Select your PTT Voice Responder from the list
Accept the pairing request
Wait for the application to show that your accessory is "Connected" and its battery level